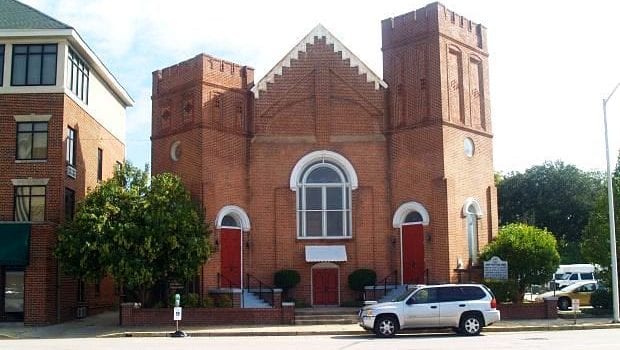 History of Ladson Presbyterian Ladson Presbyterian Church was first organized as a Sabbath School under the supervision of First Presbyterian Church of Columbia. 
In 1828 Colonel Abram Blanding donated land on the east side of the 1700 block of Sumter Street in Columbia, South Carolina for the religious training of Blacks.  Since blacks were still enslaved and could not own property at that time, the title of the property was entrusted to the officers of the First Presbyterian Church. 1838 – A chapel was built and the Rev. George Whitfield Ladson, from Columbia Theological Seminary, served as pastor until his death in 1864. 
Because of his devoted and unselfish service, the name Ladson was adopted by the church. 1874 – Ladson Church was granted independence from First Presbyterian Church. 1876 – Upon request from Ladson Chapel, the Presbytery of Southern Virginia recommended the Rev. Mack G. Johnson, a recent graduate of Howard University to serve as pastor.  Under his distinguished pastoral career Ladson Church took on a leadership role in education and community service in Columbia. 1892 – The Union army destroyed the original chapel by fire. 1896 – Rev. Johnson led the rebuilding on the original land. 
On January 7, 1897, the Trustees of First Presbyterian Church of Columbia transferred the title of the property to the Trustees of Ladson Presbyterian Church with all attendant powers, duties, and obligations.  By the time of Rev. Johnson's death in 1921, Ladson was well established as a Mecca of hope for a vigorous and healthy Christian life in the city of Columbia. On April 30, 1998, Ladson Presbyterian Church, U.S.A., was listed on the National Register of Historical Places. From its humble beginning as a traditional Sabbath School, Ladson Presbyterian Church has demonstrated the strength of education and Christian devotion and remains today the oldest African American congregation in Columbia and the fifth oldest religious congregation in the city. 
As an integral force in downtown Columbia, Ladson Presbyterian Church has recently launched a bold capital campaign, "For the Love of Ladson".  This effort will generate support and funds for key renovation projects on its 111 year old building and prepare the facility to accommodate present and future programming. Plans are currently underway for the 170th year anniversary celebration of Ladson's contribution to the spiritual, cultural, and educational quality of life in the city of Columbia.  One of the headlining events is the city-wide TRUST conference series for the middle and high school children and their parents.  The conference theme, "Truth and Reality in Understanding Situations Today" will guide 300 youth and parents through explorations in healthy relationships.  On August 18, 2007, Ladson involved city, county, civic, and educational agencies in sponsoring the first of this conference series.